Dalkey is a former village and now a suburb of Dublin. It is located in the South-East of the city. It traces its origins to Viking times and was a busy port town in the Middle Ages.
I have visited the attractive town itself many times. This time I went for a walk in Killiney Hill Park and a visit to Mornington Garden.
Killiney Hill Park
This park takes in both Killiney Hill and Dalkey Hill. It was opened to the public as far back as 1887, by Prince Albert, and was then called Victoria Hill, in memory of her Jubilee.
The park offers spectacular views over the surrounding areas: Dublin to the northwest, the Irish Sea to the east and southeast, and Bray Head and the Wicklow Mountains to the south. Here are some pictures I took: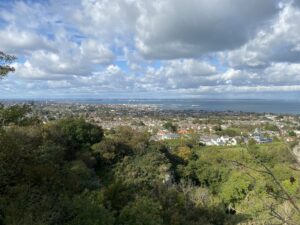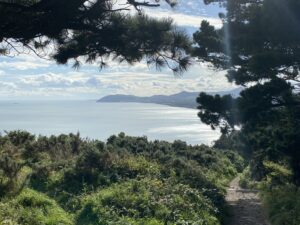 Mornington Garden
Afterwards, I visited Mornington garden, which is a private garden just outside the entrance to the park. It is by appointment only and costs €6 per person, minimum group of 4. Our very knowledgeable host was Annmarie Bowring who gave a very enthusiastic tour of her beautiful garden. And gave me lots of tips and ideas for my own (she also runs a garden school). These are just a very small sample of the many flowers in her garden. If you are into gardening, I would recommend a visit! For more information, click here.