2020 will forever be known as the year of COVID-19. The impact on my life has so far been one of inconveniences rather than anything more depressing:
I have been working from home since early March. I used to travel a lot to meet clients. I was in a plane most weeks, often heading for London and occasionally Paris, Brussels, Amsterdam, or Berlin. That has obviously ceased, and I now conduct "meetings" via video conferences.
I have not been able to visit my widowed mother since January – which I normally do every few months.
I had to cancel a family trip to Lanzarote, a visit to friends in Iceland, and my planned holiday to Italy.
But let's look at this another way:
Thankfully no close relatives or friends have succumbed to the virus.
I still have my job.
Thanks to Facetime I am in regular contact with my mother.
Lanzarote, Iceland, and Italy will still be there next year or the year after.
I don't want to belittle the stress this crisis brings to people with young families and/or living in small apartments. But I have no sympathy for people who "must" go abroad.
Instead of visiting the Amalfi Coast and Umbria as planned we – my wife and I – are staying put. We are taking a two-week break to recharge our batteries, however. We will be doing a number of day trips, such as:
We also came up with the idea of "theme days". The first theme day was "Italy": as we could not go to Italy, we decided to bring Italy do us.
We decorated our house with Italian flags, table cloths, etc. We went shopping in the Specialty Grocery Store "The Best of Italy". Here we got a lovely "home-made" lasagna for lunch and plenty of fresh ingredients for dinner.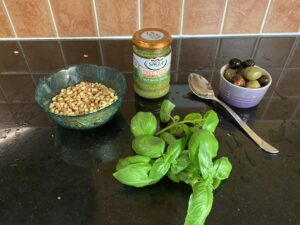 Dinner recipe
Roast a small quantity of pine nuts. This can be simply done by spreading pine nuts in a single layer in a small frying pan. Don't use oil, but do stir constantly until the nuts start to go brown. Then move them into a bowl. Don't leave them in the pan, as they might burn.
Pasta: cook in lightly salted water. Once done, drain and add a dollop of green pesto and mix thoroughly.
While cooking the pasta, heat a mixture of vegetables in a frying pan. I chose a red pepper, a large onion, a mixture of mushrooms, and green asparagus. I also added some small cherry tomatoes. Don't forget the herbs: Italian herbs, Oregano, and fresh Basil (I grow a Basil plant in my kitchen)
Use pasta bowls to serve; first put in the pasta, cover with the vegetables, and sprinkle with the pine nuts.
Then there is the cheese. I like to offer both Parmigiano. which I buy ready grated and mature cheddar, which I serve in a grater.
I chose a white Pinot Grigio to accompany the dinner.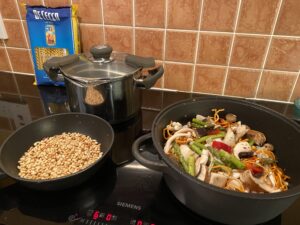 For dessert, we had a home-made Tiramisu. You will be surprised how easy it is to make, but it will take a few hours in the fridge to set, so you will need to do some planning.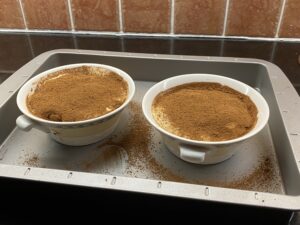 And while enjoying the dinner, we watched a classic Italian movie: Cinema Paradiso, in which a filmmaker recalls his childhood when falling in love with the pictures at the cinema in his home village and forms a deep friendship with the cinema's projectionist.