My biggest publication so far is a fictional novella. I had already written a number of articles that were published in both community and commercial magazines, of which more below. To improve my writing skills, in 2017, I joined a writing course. I was encouraged by my tutor and fellow students to aim higher. The result is "The Curse of The Cliffs". You can purchase it at Amazon for your Kindle, by clicking the picture below.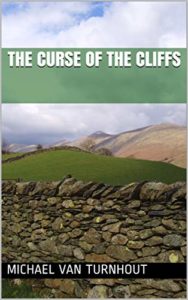 Articles
The articles below have been published in North American genealogical magazines "Internet Genealogy" and "Your Genealogy Today" as well as "Obelisk", a local history magazine published in Ireland.
On this page, you can read a short synopsis of each article. To read the full article, please click the link below the summary to download it.
Irish Schools in the 19th Century
The thirteenth edition of the Kilmacud Stillorgan Historical Society's annual journal, Obelisk, was launched in the Function Room of Glenalbyn Sports Club, Stillorgan on Thursday, 22 November 2019 to an audience of over 100. Margaret Smith paid a special thanks again to the many contributors for their very enthusiastic response with material and whose stories help to give us a fuller picture of daily life and the streetscape of times past. As in previous years, I was one of them. My article is about a local school, St. Mary's National School, Sandyford. It is not a particular special school. Hundreds like it have existed and many of them still exist. And some of them are still schools, as is the case with this one. The article tells hows this Irish local school worked in the 19th Century when many were founded. It a good example of how the school system operated in those days. And it follows the history of this school to the present day.
Download
Avoiding Common Mistakes in Genealogical Research
This article was published in the North American genealogical magazine "Your Genealogy Today", in the January/February 2018 edition. My article, "Avoid Common Mistakes", is about preventing research errors by using the guidelines of the Genealogical Proof Standard. ​As outlined in the Genealogy Standards by the Board for Certification of Genealogists, the Genealogical Proof Standard consists of five elements: 1. A reasonably exhaustive search for all pertinent information 2. A complete and accurate citation to the source of each item used 3. Analysis of the collected information's quality as evidence 4. Resolution of any conflicting or contradictory evidence 5. Arrive at a soundly reasoned, coherently written conclusion A genealogical conclusion that meets these standards can be considered proved.
Download
Real Estate Speculation in the 19th Century
This article was published in an Irish Local History Magazine in November 2017. My article is "Gordonville", about the history of a house and the village it is in. It shows the impact on a small village of the coming of the railways. And that speculation on real estate is not a recent phenomenon.
Download
Legacies of British Slave Ownership
I wrote this article for the "Internet Genealogy" edition of October/November 2017. This is a leading North American genealogical magazine that focuses on keeping today's family historian up-to-date with the vast and ever-growing collection of genealogy-related resources, software, tools, products, technologies, etc. My article "Legacies of British Slave Ownership" is about a very unusual database contains a wealth of information on British plantation and slave owners in the Caribbean
Download
Moreen, a Country Mansion
This article tells the story of a 19th Century estate, called "Moreen" which was developed as a retreat for a well to do Dublin family. Their main house was in the city centre. Moreen was then in the countryside, although not too far from the big city. It has a rich history, stretching from the time of the Pale to Markievicz to the modern Central Bank.
Download
Woodside - History of a Farm House
My article is "Woodside, Sandyford" about the history of a beautiful farm house and its occupants.
Download